Archive for August, 2008
I'm back in Tahoe this weekend, but instead of a houseful of kids and dogs it's just me and my Cabana Boy. WTF? Cabana Boy? I'm calling him my Cabana Boy even though he is far from being a boy and actually has a few years on me. He wishes to remain nameless and faceless, so you'll just have to wonder…
But now onto the story…
My CB and I dropped off Lili the Wonder Pug at a fabulous doggie B&B on Thursday morning and headed to the airport, trying to make an 11:25am flight to Reno.
We arrived at the Southwest gate after a slight delay having to do with the back of my heel and the wheel of my luggage crashing into each other as we raced from the parking bus to the terminal. I managed to procure a Bandaid from the Southwest desk agent before I bled all over the floor. Good to go.
We breezed through security even though I realized afterwards that I had forgotten to take my regulation plastic baggie of liquids out of my purse and send it through in a plastic bin. We checked the display board and noticed that our flight was boarding, so raced down to the gate. What's the point of being in the A group on Southwest if you're late for boarding?
As soon as we got to the gate I notice my friend Kevin at the gate with a couple of his friends, so I went over to say hi.
"Kev! What are you doing here?" I said as I gave him a big bear hug.
"We're heading to L.A. to play some gigs," he said, then introduced me to his friends. "This is Dane and this is Andrew. All drummers."
Kevin and I used to work together, and he's also my web designer, and he is also an awesome drummer who plays with the likes of Animotion and Missing Persons.
Our group started boarding, and I promised to try to save my drummer friends some seats once we got on the plane.
My CB and I settled into the emergency exit row, and Kevin and his friends were not far behind and ended up in the row directly behind us.
The rest of the story is best told in pictures…
That's Kevin Rankin on the Right and Andrew Greene on the left. Andrew plays drums for a Guns & Roses tribute band called Appetite for Deception.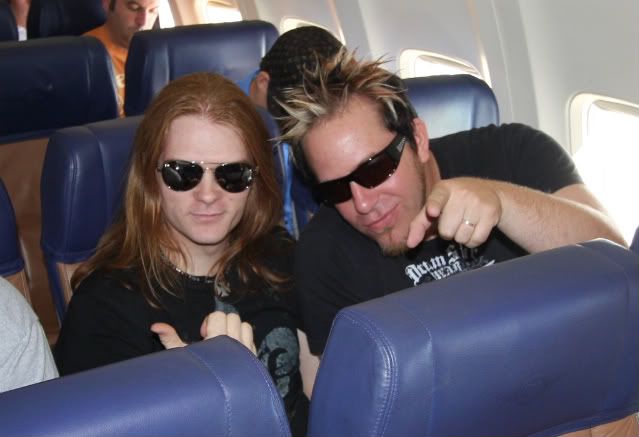 Left to right: Dane Haase (drummer for Abandonstage), Andrew Greene, Kevin Rankin, Me.
Me playing journalist and interviewing Kevin (taking notes on a barf bag).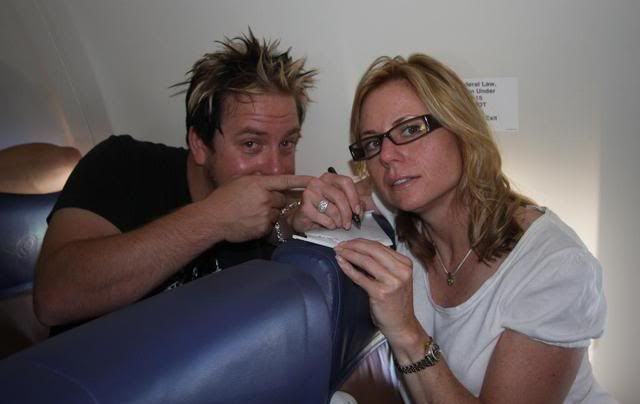 "So, Kev what's your schedule like this weekend?"
"Well, our flight lands in L.A. at 2:30. We have to be to a studio in Torrance by 4:00 to lay down some drum tracks. Then there's a sound check in there somewhere and playing House of Blues at Disneyland at 7pm. Have a little meeting with Spawn drums on Friday, because they are sponsoring me and may be sponsoring Andrew. Then we're playing the House of Blues on Sunset Boulevard on Saturday night."
There was also something in there about having dinner with Miley Cyrus's drummer (Nate Morton), and meeting up with the keyboard player from Berlin and the Googoo Dolls. I couldn't keep up. I was taking notes on a barf bag!
After the interview…
We were having so much fun that the flight attendants wanted to get in on the action. Well, okay, we kind of roped them into the action.
This is Candace, who was reluctant to have her picture taken because she had been up since 3am, but doesn't she look great?
And this is Stacey, who was not so reluctant once we convinced her we wouldn't use the photos for evil purposes.

That's another drummer named Nick (in the background), whom we randomly met on the plane. He was on his way to Reno to see Kiss.

I think we should play "Caption this Picture" with this one. Is he getting scolded or what?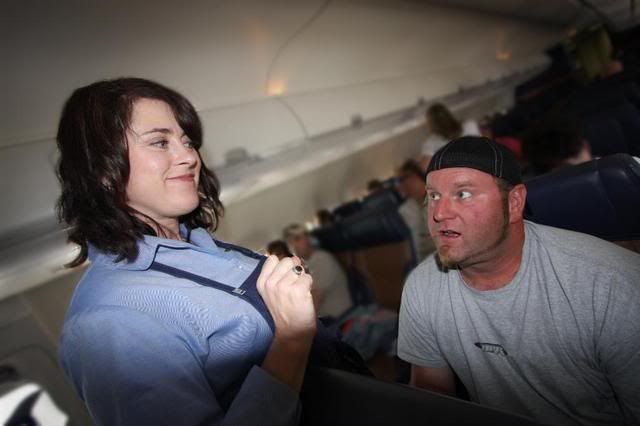 And one more for Stacey.