Archive for July, 2009
Originally published on MySpace on July 25, 2009
I must admit, it's been about 20 years since I've been to a bachelorette party, so imagine my surprise when I recently received an invitation to one. My first thought was, oh God I hope this doesn't involve young men dressed up as cops showing up at the door with a boom box. Thankfully no.
The plan was to take the bride, whom we'll call Kate, to happy hour at a nearby restaurant, and then whisk her away to a secret location for a secret activity—that activity being a pole dancing class!
First of all let me point out that the median age of those in attendance was probably 48, with our friend Kate being the youngest at 32. And just to give you an idea of the personalities in the room, we all either have engineering degrees or work in engineering. Not your typical pole dancers.
I'm going to skip the happy hour festivities and go right to Diva Den, or the Den of Sin as I like to refer to it.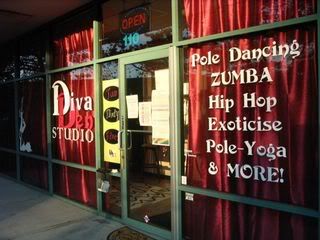 Unlike me, most of my female friends are very organized, think ahead, and prepare for events such as this. One such friend actually packed a cooler with iced tea, sweet tea vodka and some fruit for us to snack on during our pole dancing session. I personally don't have a lot of inhibitions when it comes to trying new things, but one of my friends announced, "I'm a good Catholic girl. I think I need a drink before I try this!"
We all changed into our pole dancing clothes. What? You didn't know there were pole dancing clothes? Okay, they weren't really pole dancing clothes. I wore some Lycra running shorts and a tank top.
And then there were the shoes! Diva Den has a variety of "Hooker Heels" as I call them, that you can wear during your pole dancing lesson. Our instructor Brandi handed me a pair of 6-inch high silver platform stilettos and said, "Here, try these."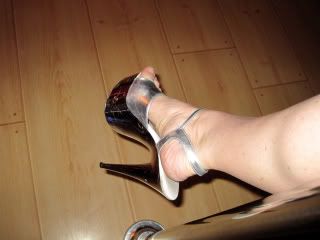 If you're going to learn how to pole dance you might as well look the part.
I have been threatened with legal action (okay not legal action, just verbal threats) if I post any of the party pictures here. But I think it's okay if I just post a few that only include me.
The class started out with some stretching and "floor work." Baby steps people! You can't just start swinging on a pole without warming up and getting the basics down.
Brandi taught us how to walk sexy, crawl sexy, and generally move like you mean business. None of us were big fans of the floor work, because frankly, crawling across a wood floor on your knees is painful.
"Brandi," I said with a look of utter desperation on my face, "how do you do this without the pain? My knees don't like this."
"You get used to it," she said matter of factly. "You have to toughen up your body to do this." And then she went on to explain that when she started attending and teaching these classes a year and a half ago, her arms and legs were covered with bruises for the first month. And I can tell you that when I woke up this morning I was sporting my own array of black and blue patches after just one lesson last night.
After the floor work, we finally got to pick a pole. Pick a pole? Aren't they all the same? No. There are standard stainless steel poles, poles that have a smaller diameter for those with smaller hands, and even a copper pole, which is stickier (for those who get sweaty palms). I chose a standard stainless steel pole in the front of the room.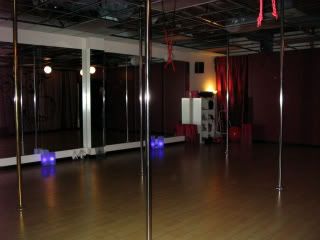 We spent the next 30 minutes doing the "Fireman," the "Pinwheel," and learning how to get up from those maneuvers without looking like a clutz.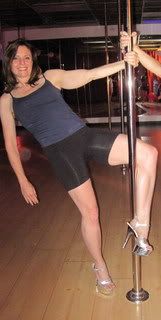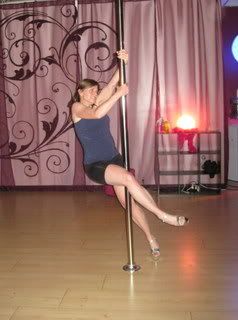 The final session of the evening was a lap dance lesson. Brandi went through a lap dance for an imaginary friend on the couch, and then we each got a turn to try the routine.
"Who should I imagine on the couch?" I asked my gal pals. The consensus was that Johnny Depp would be the recipient of my lap dance, and I'm pretty sure he would have enjoyed it.
After our lap dance lesson we had some time to take pictures of each other doing our newly acquired pole tricks, which for the most part I can't publish here. We then changed back into our street clothes.
We gave Brandi a nice tip, and headed out for a nightcap and a bite of this: The "Cock 'n Balls" from Voodoo Doughnut (which happens to be two blocks from where I work).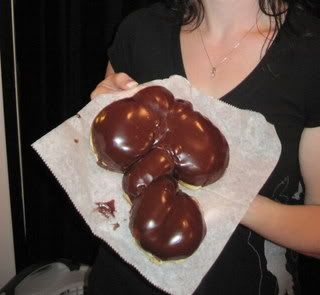 If you are looking for an alternative to your daily, boring workout routine, I highly recommend adding pole dancing to your cross training. Many aerobics studios offer it, or you can find places like Diva Den that specialize in it.
You can see me practice my pole dancing skills at Comedy Sportz on Sunday. Oh wait, wrong venue. Comedy Sportz is for improv comedy not pole dancing. But I am in the show on Sunday, and we have AC! It's a minor league show so the cost is only $5 with a can of food for the Oregon Food Bank or $6 without a can.
Address here: Comedy Sportz Portland