Archive for August, 2009
Originally published on MySpace on August 26, 2009
on It's been way too long since I wrote a Cheers and Jeers blog!
Cheers: to Kevin for setting up the amazing Jennifer Batten house party this Friday night. I can't wait!
Bummer: to the poor guy who drove a brand new Saturn sports car off the end of a car carrier truck this afternoon, and forgot to extend the drive rails off the back! DOH! He realized what he had done when the car hit the ground nose first. This is the car: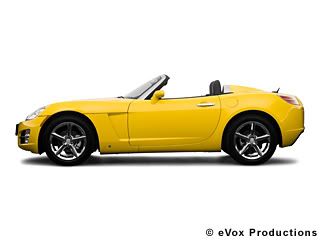 Cheers:
to
DJ Myke
for taking the Anonymous Notes challenge and pimping me in his blog.
Jeers:
to the
City of Portland
for raising meter rates AND charging on Sundays.
Jeers:
to the
City of Portland
for eliminating Fareless Square on the downtown bus routes. I know, I know, you can still take Max and the street car in Fareless Square.
Cheers:
to
the readers of The Portlander
for making my Storm Large article the most-read article on the site for the month of August so far.
Cheers:
to
Rick's Wild Seafood food cart
on 3rd and Ash in downtown Portland. Most awesome seafood chowder, Mahi Mahi tacos, and halibut fish and chips.
Jeers:
to
Murphy's Law
. I had an audition for four small roles on the TV show
Leverage
the one week this summer when I was out of town. Really bad timing.
Cheers:
to psychic
Suzanne Jauchius
for giving me an advanced copy of her book, and giving me a great interview for an upcoming article in The Portlander. Stay tuned.
What else? Did I miss anything?
Andy Batt just posted some of the "extra special" shots from the Best Buy shoot. This is my favorite. I call it Don't Drink the Kool Aid. Note: these are for his personal portfolio and have nothing to do with Best Buy.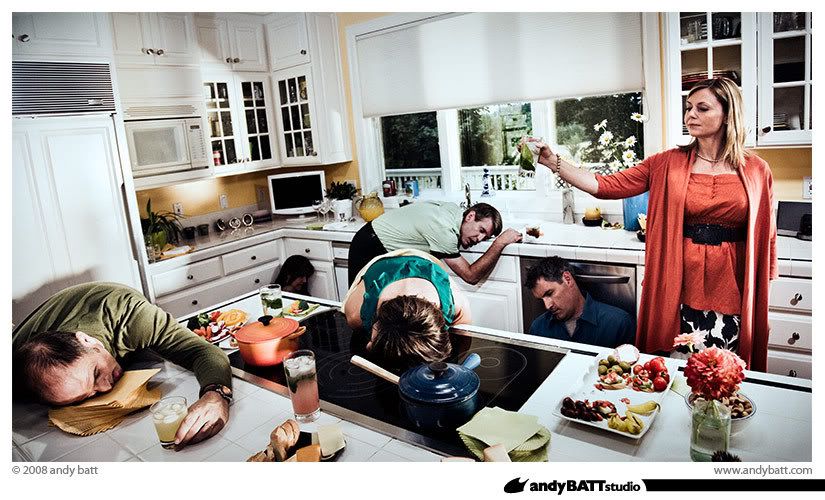 That will teach you to come to one of my parties! Ha!
You can see the rest of the photos on Andy's website. Just scroll down to the bottom where it says "Modern Fairy Tale?"

This is what my left foot was doing this morning. Shooting for the Not Dead Yet movie poster.

Originally posted on MySpace on August 6, 2009
I thought I posted this blog yesterday, but I think my Internet connection dropped before it actually posted.
Anyway, I spent 12 hours in the car with my three kids and Lili the Wonder Pug driving to our family cabin in Tahoe. We were coming across the Mt. Lassen Highway (44) from Redding (California) to Susanville when I saw something that looked like a large thunderhead.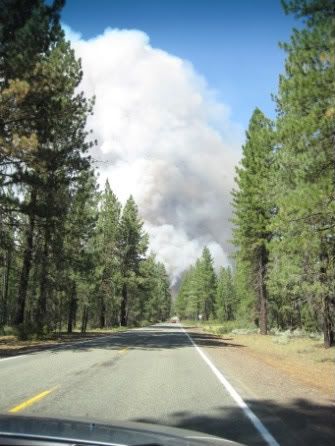 Then we got closer and realized it was a wildfire.

We kept driving, wondering if we were going to have to turn around.
We got to the intersection of Highway 89 and 44, and 89 was closed.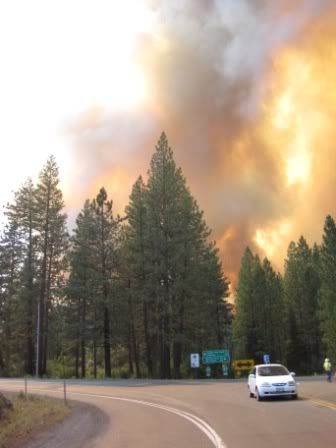 We were one of the last cars to get through on Highway 44 before they closed that too.
Driving out of the fire.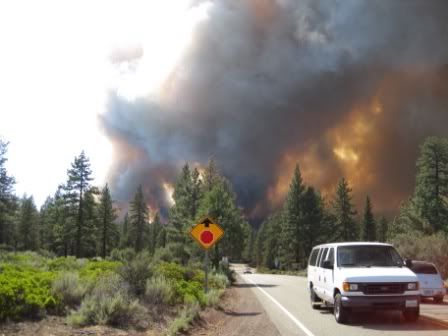 The view from a few miles away.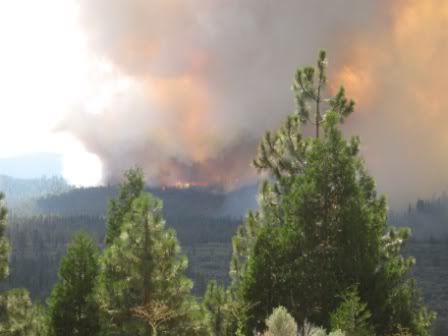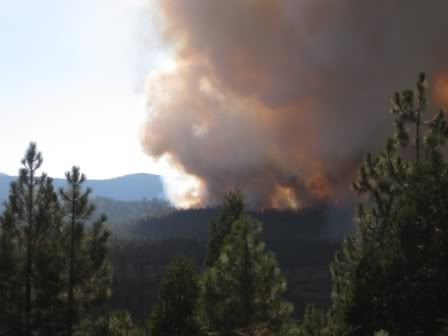 According to the news this was dubbed the Sugarloaf fire, and was started by a lightening strike.