Originally published on MySpace on February 13, 2009.
While Valentine's Day may be the most romantic day of the year for some, it will forever be a bittersweet holiday for me, because of the phone call I got on Valentine's Day last year. The phone call that informed me that my good friend Eric's daughter Ryanne had been killed in the Northern Illinois University shooting.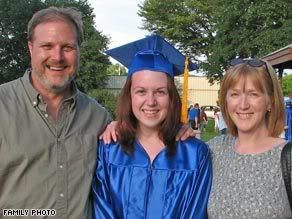 On February 14th, 2008, Steven Kazmierczak, a former NIU student, walked into a lecture hall at NIU, open fired on the students and then shot himself. A completely senseless act.
But, Eric and his wife Mary Kay see no sense in fighting violence with violence, and decided to start an education fund. In Eric's words:


This is, in our opinion, a way to meet violence with
something other than force. We could go off on a campaign to prevent people from
getting guns or try to see to it that mentally unstable people are kept out of
society but that would be meeting force with force. By putting together this
scholarship, it is our hope that more psychological counselors will be created
that will help people. If we want to prevent school shootings by insane people,
it stands to reason that curing helping people who have those kinds of problems
will have a positive impact for someone in the future. I can't effect a change
at a large level but if I can put something in place now that prevents someone
from going off the rails in the future, I will have left the world a better
place and honored not only Ryanne's memory but tried to do some of the work that
is left undone by her death.
If you would like more information on the endowment, I've included
a couple of links below. The
first one will take you to the NIU foundation's site which has a series of links
to deal with questions about donations and all the other information that
someone might need about how the foundation works. The second link is
specifically for the Ryanne Mace Memorial Scholarship Fund explaining why it was
started and how it will work.
Here is the contact information for the representative for the NIU Foundation:
Teri Gensler
Gift and Estate Planning
Officer
Division of University
Advancement
Altgeld Hall 132
DeKalb, IL 60115
(815)753-1301

There will be numerous stories on CNN tomorrow to mark the anniversary. Here is a link to an interview that Eric did earlier this week:
One thing Eric said to me right after the shooting last year was, "Hug your kids more often. And tell people you love them every day." Good advice.
Comments
comments
Powered by Facebook Comments