The Cinderella Starbucks
When I go for a long run on the waterfront I start and end at Willamette Park, and hit the Macadam Starbucks before I head home. But yesterday my running buddy Debbi and I decided to hit a different Starbucks that was on the way home. We drove to a Starbucks in Mountain Park for our after-a-brutal-run latte.
I walked in the front door and made a beeline for the goodie case, because I wanted a breakfast sandwich. I didn't see any, so I whined to the gal behind the register, "No breakfast sandwiches?" "Nope," she said. "We're the Cinderella Starbucks. We have no oven."
Oh man, no breakfast sandwiches. Okay, my second choice is always a Panino Dolce. "I'll have the Panino, heated with two butters then."
"Sorry," she said. "No oven. We're still waiting for Prince Charming to bring us an oven."
"Butter?" I asked.
"Don't know if we have butter either. Let me ask."
Nope, no butter either!
"Fine. I'll have a double tall one pump vanilla latte whole milk please." Sigh.
The Awesome Starbucks
My son Ashton was attending a 3–week intensive film school in Seattle recently, and this was his first time ever being away from home on his own for any length of time. He went to the same Starbucks every morning to get his latte and his breakfast (a highly nutritious donut of some kind I'm sure). On one of the last days of class he walked into the Starbucks, ordered his usual, and then realized he had forgotten his wallet. To his surprise all of the baristas chipped in their own money to buy him his latte and donut. Is that cool or what?!
The Pumpkin Outfit
I had the best stylist ever on the Best Buy shoot. But even the best stylist couldn't make me look good in this outfit. I call it the Pumpkin Outfit. It was very poofy! The belt was up around my rib cage, not around my waist.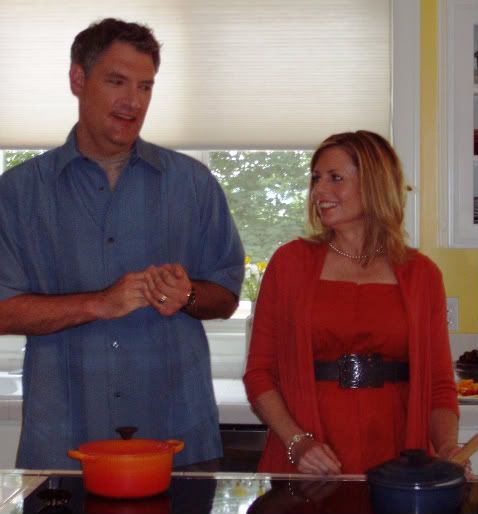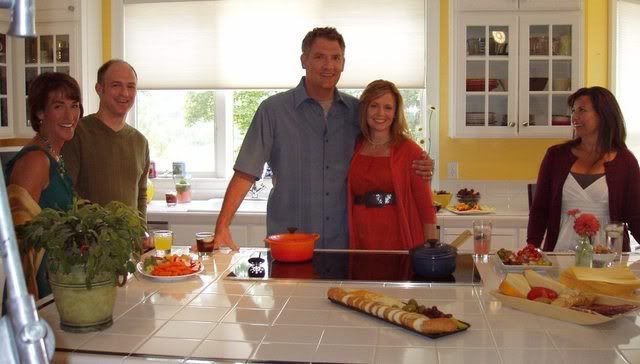 By Friday I Was so Done
Friday was Day-6 of the Best Buy shoot. We shot in two different studios that day. The morning was shots of us on a seamless, which is this big white roll of paper: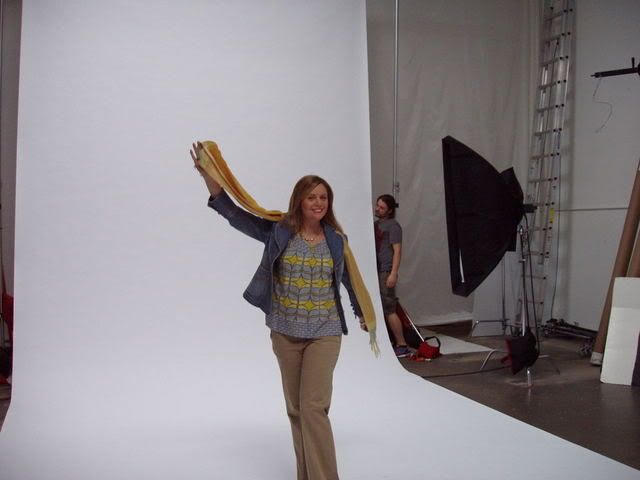 The afternoon was spent in a studio shooting video on a green screen. This is me on lunch break: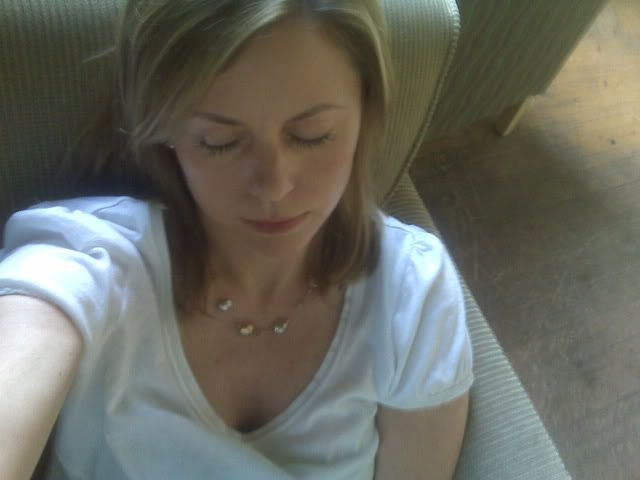 My makeup bag for the week. Brushes, mascara, etc.
The Last Shot
I mentioned in previous blogs that photographer Andy Batt was doing some staged shots all week for his portfolio. The last staged shot we did on Friday was of the "family" wearing wrestling masks. Here we are getting ready to put each other into headlocks.
Comedy Sportz World Championships
Never heard of Comedy Sportz? Heard of the show "Whose Line is it Anyway?" Comedy Sportz is a franchise of improv comedy venues around the globe. The Comedy Sportz World Championships were held in Portland this week, and I got to see some of the competition. I also got to see a lot of friends I hadn't seen in a long time.
Funniest moments:
* Manchester doing regional American accents
* Portland doing regional British accents
* The Randy Newman game that Provo played
The lobby of the Gerding Theater:
Portland Vs. Chicago. Andrew Berkowitz (Portland) and Rance Risutto (ex Portland, now Chicago) face off as captains.
Comments
comments
Powered by Facebook Comments