Archive for category Friends
When a girlfriend asks you to run a half marathon on her "birthday weekend" you can't refuse. When she tells you it's kind of hilly, but there's a great after party, you just have to suck it up and sign up.
July 10th 2011, marked the second annual Fueled by Fine Wine One-Half Marathon held in Dundee, Oregon in the heart of wine country, and Team Bubbles was there to suffer and celebrate.
I picked up the Team Bubbles Captain (the birthday girl) at 5:30am to make the drive from Portland to Dundee, and we arrived with just enough time to drop off our post-race paraphernalia at a friend's house, meet up with the other members of Team Bubbles and head to the park down the street for the 7am start. I knew I was in trouble when the first turn across the start line was straight up a 45-degree hill into a Dundee neighborhood. The paved road quickly turned into gravel when we turned off into a winery at Mile 2.
Then the fun began.
Running along dusty dirt paths between rows of vines reminds me of the fact that picking up the rear on a dusty road is never a desirable position to be in. I used the water at Mile 3 to wash the grit out of my mouth.
And Miles 4-12 weren't much better. Some of the terrain was so steep that I could power walk it faster than I could run it. I heard more F Bombs uttered in this race than I have in any other race, including the three marathons I've run.
"Are you f*cking kidding me?! Another f*cking hill?!" was the mantra of the day.
At some point between Mile 12 and 13 we turned onto a paved road and encountered one of the few downhill portions of the entire route. Thankfully I still had a good kick left and sprinted the last mile of downhill to the finish line where the rest of Team Bubbles was already standing in line to collect their wine glasses for the after party. We quickly grabbed our glasses and went straight to the Argyle table for a glass of what else but bubbles.
I pity the poor people who chose this race as their very first half marathon. They have probably all hung up their running shoes and decided this whole half marathon thing just isn't for them. Don't give up! The Fueled by Fine Wine Half Marathon is just some crazy person's idea of seeing how much torture runners will endure if there's free wine at the end.  Apparently the answer is "a lot."
We worked our way through the post-race nosh of salami, bread, cheese and brownies, and sampled plenty of wine. In the end we raised our glasses of bubbles in a toast to surviving the crazy course, and swore we'd never run this race again.
Epilogue
The day after the race I drove 647 miles to Lake Tahoe. When I stopped to get gas after four hours of driving I could barely get out of the car, let alone walk. I have been running for 30 years, and I felt like I had just run a marathon for the first time. I lived on Advil for three days after this race. But like childbirth, you forget the pain, and even though we all said we would never do it again I'm sure you'll see us standing in line at the wine tent after the race next year with dirt on our shoes and smiles on our faces.
Originally published on MySpace on February 13, 2009.
While Valentine's Day may be the most romantic day of the year for some, it will forever be a bittersweet holiday for me, because of the phone call I got on Valentine's Day last year. The phone call that informed me that my good friend Eric's daughter Ryanne had been killed in the Northern Illinois University shooting.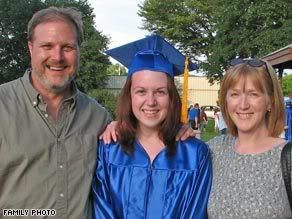 On February 14th, 2008, Steven Kazmierczak, a former NIU student, walked into a lecture hall at NIU, open fired on the students and then shot himself. A completely senseless act.
But, Eric and his wife Mary Kay see no sense in fighting violence with violence, and decided to start an education fund. In Eric's words:


This is, in our opinion, a way to meet violence with
something other than force. We could go off on a campaign to prevent people from
getting guns or try to see to it that mentally unstable people are kept out of
society but that would be meeting force with force. By putting together this
scholarship, it is our hope that more psychological counselors will be created
that will help people. If we want to prevent school shootings by insane people,
it stands to reason that curing helping people who have those kinds of problems
will have a positive impact for someone in the future. I can't effect a change
at a large level but if I can put something in place now that prevents someone
from going off the rails in the future, I will have left the world a better
place and honored not only Ryanne's memory but tried to do some of the work that
is left undone by her death.
If you would like more information on the endowment, I've included
a couple of links below. The
first one will take you to the NIU foundation's site which has a series of links
to deal with questions about donations and all the other information that
someone might need about how the foundation works. The second link is
specifically for the Ryanne Mace Memorial Scholarship Fund explaining why it was
started and how it will work.
Here is the contact information for the representative for the NIU Foundation:
Teri Gensler
Gift and Estate Planning
Officer
Division of University
Advancement
Altgeld Hall 132
DeKalb, IL 60115
(815)753-1301

There will be numerous stories on CNN tomorrow to mark the anniversary. Here is a link to an interview that Eric did earlier this week:
One thing Eric said to me right after the shooting last year was, "Hug your kids more often. And tell people you love them every day." Good advice.