Originally published on MySpace on November 13, 2008.
A few months ago my left foot had an audition. I got a pedicure, went into my agent's office, and met a photographer who was looking for the perfect foot for a movie poster for the film "Not Dead Yet."
There was one other woman there at the same time so I was able to see some of my competition. I actually thought her feet were much more aesthetically pleasing than mine, but she had one problem: a wonky toe on her left foot. The right foot was perfect, but she had one slightly crooked toe on her left foot, and this was a left-foot job.
She didn't get the job. I did, well, my left foot did.
A few days later I found myself in the photographer's loft in the Pearl District, with my foot pressed into a real patch of sod (basically a big sheet of real live grass). There was a pot (as in potted plant) of daisies, and the photographer and creative producer picked through the bunch to find the perfect daisy to put between my toes.
I'm not sure when this movie will be released, but when you're standing in the theater lobby with your friends you can say, "I know that foot."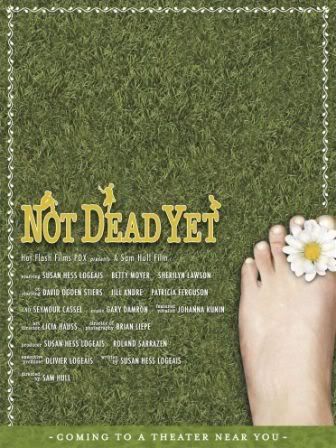 Comments
comments
Powered by Facebook Comments