Posts Tagged comedy
Being a member of the Academy of Television Arts & Sciences has its perks, however, living in Portland makes it rather difficult to take advantage of most of them. Members of the Academy often get free passes to movie screenings, plenty of DVD screeners for TV shows during Emmys voting season and countless invitations to evening events where networks parade their stars on panels for every TV show you can think of.
I have been telling myself for years, one of these days I'll buy a plane ticket and actually attend an event where I don't have to wear an uncomfortable floor-length gown and heels. That event showed up in my Inbox on July 1, at 10:56am. The subject line was:
"An Evening With Carol Burnett – July 22."
I immediately clicked through because I have tried to attend these events before, and my experience has been if you snooze you lose. I signed up, me +1. Yes, I agree I will really show up and you won't be sorry you gave me these two seats. Submit.
The confirmation came back immediately, and then I panicked. I needed a plane ticket and I needed a plus-one. Think, think, who would actually buy a plane ticket to go see Carol Burnett with me? Wait a minute, who lives in SoCal who might want to go? Hmmmm.
I ended up taking my sister Shannon who lives in Laguna Beach. She picked me up at the Burbank Airport on Monday at 2:20pm, and we made our way to NoHo (North Hollywood) to try to find a place to eat and drink. After all, we had three hours to kill before heading over to the Academy.
We parked the car near the Academy and started walking around looking for a place that served decent food and had a bar. I had no idea this would be so difficult! After passing several restaurants that served burgers, pizza and soft drinks we noticed a sign on the sidewalk just down the road that said "$4 Margaritas."
"Who cares what kind of food they have," I said. "They have $4 margaritas!"
We sat at that bar in Bow & Truss for the next two and a half hours eating Mahi Mahi tacos, shrimp ceviche and an odd kale salad while Bartender Ben looked on and occasionally interjected. Oh, and we had a few margaritas and they were well worth the $4.
At 6:25pm we walked across the street to the Academy and got in the back of a line that snaked its way back and forth across the courtyard in front of the building. I had been warned to arrive an hour early if I wanted to ensure I got a seat, because they had given out way more tickets than they had seats in the theater. They often do this because so many people sign up but don't show up. Not tonight.
We did get in, and we did get good seats, but if we had come any later we would have ended up in the overflow room with the other 100 people who didn't get into the theater.
The lights dimmed promptly at 7:30pm, and the evening started with a short reel of clips that chronicled Carol's history in television. Then the lights came up and the President of the Academy introduced Carol Burnett and the moderator/interviewer for the evening, Kristin Chenowith.
There isn't enough room in this blog to hold all of the stories Carol told, but I will tell you that she did talk about growing up poor with her grandmother, roller skating in the hallway and the day she met Julie Andrews. And of course there were stories about Tim Conway, Harvey Korman and Vicki Lawrence. Wow. What a comedic team they were.
After about 45 minutes of chit chat with Kristin, Carol finally called for questions from the audience. I had spent the entire plane ride thinking up what I would ask her if they actually called on me and handed me the microphone. I really wanted to know what the boundaries were for sketch comedy on the major networks back in the day of the Carol Burnett Show.
The first person raised his hand, then the second, then the fifth. I was wiggling in my seat, do I raise my hand? Is it a stupid question? I just knew if I didn't ask a question I would regret it. I noticed an attendant with a mic just a few rows down from me, made eye contact with her and shot my hand in the air like a 5-year old who has to pee. Okay, here she comes, now I really have to do this. Shit.
There were three more questions from the other side of the room before the woman handed me the mic, motioned for me to stand up, whispered something into her headset mic and told me I was next. Then she pointed at me at me in that silent TV way and mouthed the word "go."
I swallowed hard and hoped something intelligent would come out when I opened my mouth.
"Hi Carol," I called from 20 rows back, waving so she would know where the voice was coming from. "Were there ever any characters you wanted to play or skits you wanted to include on the show where the network just said no?" The audience mumbled in approval of the question. Oh yes, it was indeed a good question.
Carol paused for just a second and then she said, "No." Silence.
Crap. This can't be happening to me right now. Are you kidding me right now? Nothing? Never? Nada?
Then she continued. "Oh wait, there was this one sketch…" And she proceeded to tell the story of the sketch she and Harvey Korman did about a nudist camp. Her character was positioned behind a fence with just her feet and her head showing, and Harvey was on the other side talking to her about what it was like in the nudist camp. His line was something like, "Well how do you dance in a nudist camp?" And she responded, "Very carefully," to which the network responded, "You can't say that on TV."
She said the best part was that the line they finally agreed on seemed even more suggestive than the one the network nixed in the first place. During the live taping when Harvey asked, "How do you dance in a nudist colony?" she answered, "Cheek to cheek." Yes, really.
The story got lots of laughs, and I stood there grinning from ear to ear, holding that microphone like it was a stolen Emmy. Because I knew that as soon as I let go of that microphone my moment with Carol would be over.
There were a handful of questions after mine and then Carol and Kristin were gone. But for a few brief minutes that evening I felt like I, Kelly Jo Horton, was having a personal conversation with the legendary Carol Burnett.
The Cinderella Starbucks
When I go for a long run on the waterfront I start and end at Willamette Park, and hit the Macadam Starbucks before I head home. But yesterday my running buddy Debbi and I decided to hit a different Starbucks that was on the way home. We drove to a Starbucks in Mountain Park for our after-a-brutal-run latte.
I walked in the front door and made a beeline for the goodie case, because I wanted a breakfast sandwich. I didn't see any, so I whined to the gal behind the register, "No breakfast sandwiches?" "Nope," she said. "We're the Cinderella Starbucks. We have no oven."
Oh man, no breakfast sandwiches. Okay, my second choice is always a Panino Dolce. "I'll have the Panino, heated with two butters then."
"Sorry," she said. "No oven. We're still waiting for Prince Charming to bring us an oven."
"Butter?" I asked.
"Don't know if we have butter either. Let me ask."
Nope, no butter either!
"Fine. I'll have a double tall one pump vanilla latte whole milk please." Sigh.
The Awesome Starbucks
My son Ashton was attending a 3–week intensive film school in Seattle recently, and this was his first time ever being away from home on his own for any length of time. He went to the same Starbucks every morning to get his latte and his breakfast (a highly nutritious donut of some kind I'm sure). On one of the last days of class he walked into the Starbucks, ordered his usual, and then realized he had forgotten his wallet. To his surprise all of the baristas chipped in their own money to buy him his latte and donut. Is that cool or what?!
The Pumpkin Outfit
I had the best stylist ever on the Best Buy shoot. But even the best stylist couldn't make me look good in this outfit. I call it the Pumpkin Outfit. It was very poofy! The belt was up around my rib cage, not around my waist.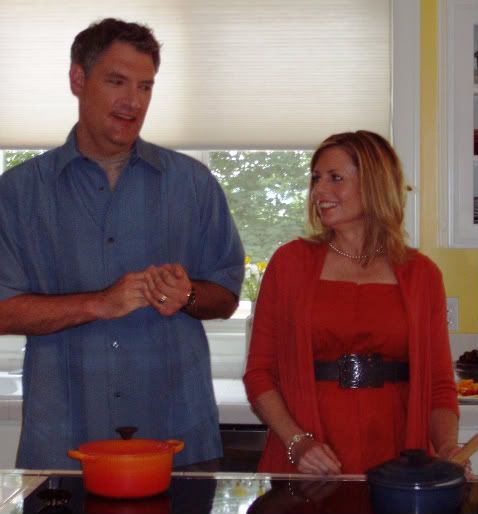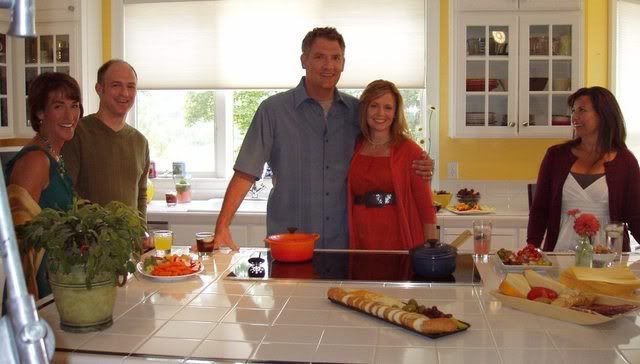 By Friday I Was so Done
Friday was Day-6 of the Best Buy shoot. We shot in two different studios that day. The morning was shots of us on a seamless, which is this big white roll of paper: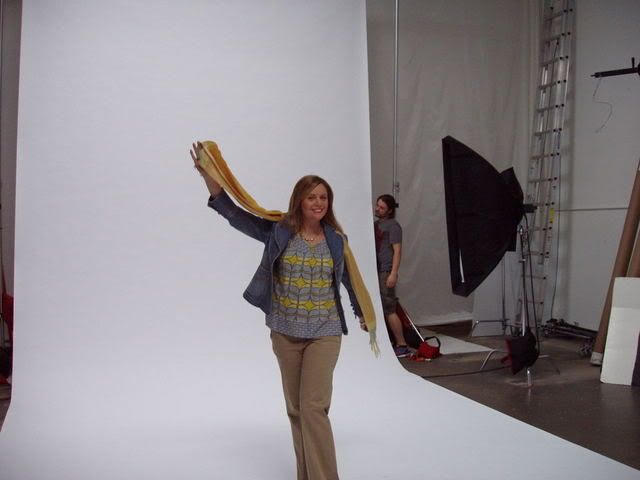 The afternoon was spent in a studio shooting video on a green screen. This is me on lunch break: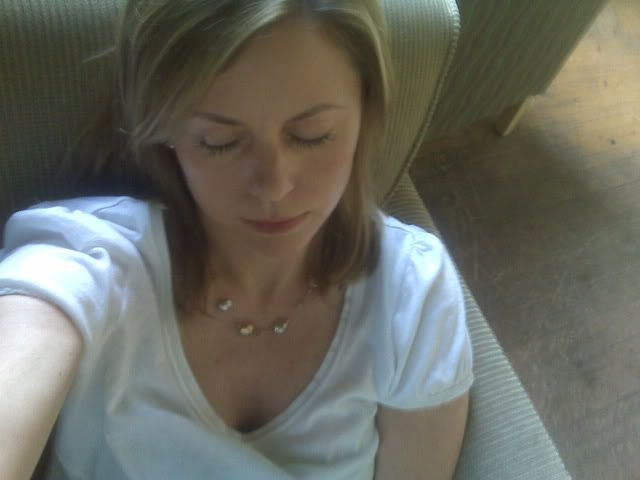 My makeup bag for the week. Brushes, mascara, etc.
The Last Shot
I mentioned in previous blogs that photographer Andy Batt was doing some staged shots all week for his portfolio. The last staged shot we did on Friday was of the "family" wearing wrestling masks. Here we are getting ready to put each other into headlocks.
Comedy Sportz World Championships
Never heard of Comedy Sportz? Heard of the show "Whose Line is it Anyway?" Comedy Sportz is a franchise of improv comedy venues around the globe. The Comedy Sportz World Championships were held in Portland this week, and I got to see some of the competition. I also got to see a lot of friends I hadn't seen in a long time.
Funniest moments:
* Manchester doing regional American accents
* Portland doing regional British accents
* The Randy Newman game that Provo played
The lobby of the Gerding Theater:
Portland Vs. Chicago. Andrew Berkowitz (Portland) and Rance Risutto (ex Portland, now Chicago) face off as captains.
Today I'm using cuss words. How can I not? Class Clown was the first album I ever bought with my own money. I was eight or nine, and my mom let me buy it! I could repeat it word for word. I wore that album out.
So, in honor of George… the seven words you can't say on television: shit, piss, fuck, cunt, cock sucker mother fucker and tits.
George Carlin 1937-2008
R.I.P.R.O.T.F.L.O.L.