Originally published on MySpace on November 10, 2008.
CB and I spent our last day in Manhattan exploring and being tourists. We went to Wall Street, Ground Zero, the Metropolitan Museum of Art, and when we couldn't stand any longer, a little restaurant near Central Park called Bella Cucina (E 87th Street and Lexington Avenue).
We were seated at a small table by the window in a sort of enclosed sidewalk patio area. The view to the street was blocked by a row of large white trailers, because we were sitting smack in front of the staging area for a film called "Solitary Man." We tried to guess who would star in a movie called Solitary Man, and CB suggested Russell Crowe. I was thinking it was probably some older actor who plays angst well. Someone like Bill Murray. We finally gave in and looked the movie up on IMDB and found it stars Michael Douglas, Susan Sarandon, Mary-Louise Parker, Jenna Fischer and Danny DeVito. Hmmm, could be interesting.
Back to the story… We perused the menu and were pleasantly surprised to find that the wine list contained bottles of wine that ranged from $25-$35 a bottle, which seemed to be completely unheard of in New York. We ordered a bottle of Chianti Classico, an appetizer and our entrees, and settled in for a nice dinner.
My friends will tell you that I'm a lightweight when it comes to alcohol, especially if I'm drinking on an empty stomach. I was getting giggly before I even finished the first glass of wine. It was at that point that I noticed the table cloth was actually a sheet of butcher paper, and I whipped out my ballpoint pen to get creative.
I challenged CB to a limerick contest, and we both started writing furiously. The idea was to write fast and furiously without editing.
I finished my first limerick, and began to read it out loud to CB, barely able to finish each line because I was laughing so hard. Here's the first limerick:
I once had a friend named Mike
Who rode around all day on a trike.
When asked if the seat
Made mince of his meat
He said, "Not anymore than I'd like."
And here's me cracking myself up.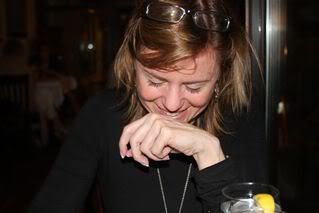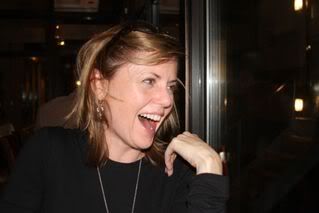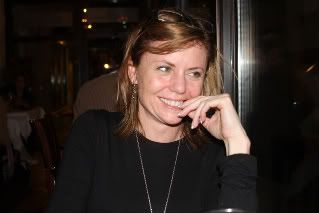 I think this was CB's first limerick for me:
There once was a girl named Kelly
Who had the most extraordinary jelly.
It swayed and it shook
And wobbled amok
And made nervous the whole of New Delhi.
By this time we were in hysterics. I then asked CB to give me a word to include in a limerick. He said, "Antidisestablishmentarianism," to which I replied, "Uh no. How about a word I'd actually use."
"Okay," he said, "Makeup." Ahh that's better. I gave him the word "bustier" and here's what we came up with.
Makeup
As a makeup artist I know
That on diva's you have to go slow
Some powder, some gloss
Let them be the boss
Or out the door you will go.
Bustier
Her bustier was full of delights
And her knickers were feathery light
A kiss on her breast
Was always the best
Way to kick off the long summer night.
The evening went on like this until the entire table was covered with drawings and limericks, and the limericks just kept getting raunchier and raunchier as the night wore on. The couple at the table next to us (a mere four feet away) finally asked what was so funny. I told them we were being creative and writing nasty limericks. They were on a Match.com date, and were none too thrilled to be seated next to a loud silly couple like us. Too bad, so sad. As CB would say, "Get over it!"
When the meal was over and the bill was paid, we artfully rolled up our butcher paper full of memories and walked down the street to catch the subway back to the hotel.