Posts Tagged Tahoe
My sisters and I meet up at our family cabin in Incline Village (Tahoe) every summer for a week, and we're continually looking for new and exciting adventures to keep our kids occupied. I am not one to sit on a beach and do nothing all day, so when a friend suggested taking the kids on a mountain biking adventure I decided to check it out.
My friend Greg recommended the Flume Trail in Tahoe, saying it would be a great ride for the kids and everyone would enjoy it. Now let me just point out that Greg rides his mountain bike five days a week, and he considers a 5-mile ascent at a 45-degree angle a fun ride, so I should have taken this fact into consideration before dragging my family into this adventure, but I didn't.
We honestly didn't know much about the Flume Trail ride so we called the Flume Trail Bike Shop the night before we planned to ride and asked a few questions, like how hard is this ride really. The answer was a bit vague being, "Oh there's a bit of a hill at the beginning, then a few miles of flat terrain, and then a few miles of downhill." We would soon find out that this was the understatement of the year.
The ride begins at Spooner Lake at 7000 feet and climbs to 8157 feet at the summit. If the hills don't get you the altitude will.
FACT: The first FIVE miles of the adventure to get to the head of the Flume Trail is uphill.
This is no joke.  I spent the first five miles of the "ride" walking with my 14-year old daughter who was so frustrated with the climb that she literally gave up and sat down on the dirt trail. It took me about two hours to talk her out of turning around and get her up to the summit. My 21-year old son and 12-year old son were able to ride up most of the five miles with a few exceptions, but they had to wait 90 minutes for us at the summit.
FACT: If you have to stop for any reason you will be eaten alive by mosquitoes.
My daughter spent the first five miles swatting at flies and mosquitoes and shouting, "I am not an outdoors person!"
The next couple of miles past the summit were a walk in the park compared to that first five miles of hills. We really enjoyed the easy miles of trail that winded along the edge of Marlette Lake. However, the cakewalk was short lived, because you see the actual Flume Trail is 4.5 miles of single track trail hugging the side of a mountain with a 1600-ft drop off.
FACT: People with a fear of heights should NOT ride the Flume Trail.
This part of the ride is not family friendly. There is one place on the trail where you actually have to pick your bike up and carry it over a pile of large boulders.
The last few miles of the adventure are all downhill on loose sand and gravel, which is a challenge. But when you've been riding the last 4.5 miles on the edge of a cliff it's a welcome change of pace even if it is harder to keep your bike upright.
All seven of us arrived at the end of the trail (at the Ponderosa Ranch) relatively unscathed, but incredibly thirsty, because you see we all ran out of water after that first 5-mile climb and had to ride the last 10 miles with no water.
FACT: You will need three bottles of water per person if you want to stay hydrated on this ride.
Four of the seven of us said we would do the ride again if we were more prepared. I would have absolutely loved this challenging ride had I not spent the entire time trying to talk my kids through it. So if you want to do this ride take my advice:

Park at the Ponderosa Ranch parking lot and take the shuttle to the Flume Trail Bike Shop where you can rent a well-equipped mountain bike.
Bring your own riding gloves, because they run out of loaners early in the day.
Pack three bottles of water per person.
Bring ample snacks, as you will be burning in excess of 1500 calories on this ride.
Pack a small first aid kit, because the only way you can get help if you're injured is to have someone ride back to the bike shop, which could take hours.
An experienced rider may be able to finish the ride in under two hours, but it took us five hours, so keep that in mind.
Wear lots of sport sunscreen and a good pair of sunglasses to keep the dirt, dust and sun out of your eyes.
Apply mosquito repellent liberally.
Do not bring children or inexperienced riders. This is a moderately difficult ride.
Rent a place with a hot tub because you'll want a long soak afterwards.
Happy trails!
Originally posted on MySpace on August 6, 2009
I thought I posted this blog yesterday, but I think my Internet connection dropped before it actually posted.
Anyway, I spent 12 hours in the car with my three kids and Lili the Wonder Pug driving to our family cabin in Tahoe. We were coming across the Mt. Lassen Highway (44) from Redding (California) to Susanville when I saw something that looked like a large thunderhead.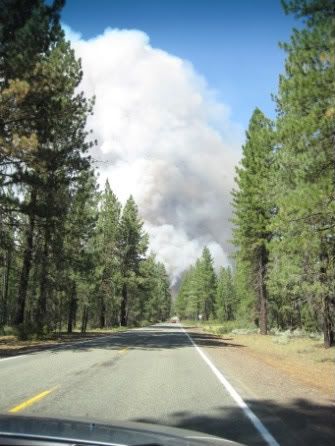 Then we got closer and realized it was a wildfire.

We kept driving, wondering if we were going to have to turn around.
We got to the intersection of Highway 89 and 44, and 89 was closed.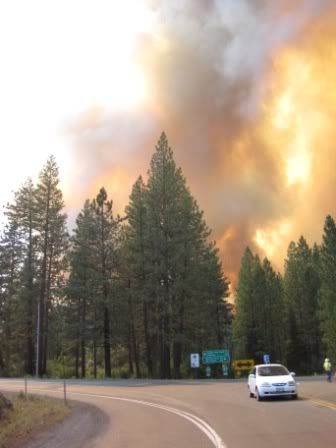 We were one of the last cars to get through on Highway 44 before they closed that too.
Driving out of the fire.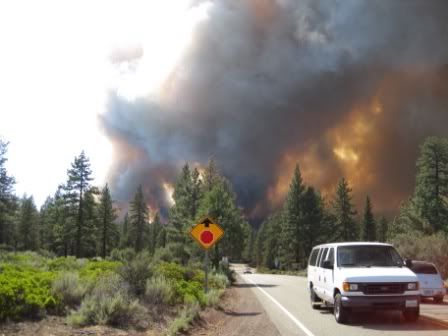 The view from a few miles away.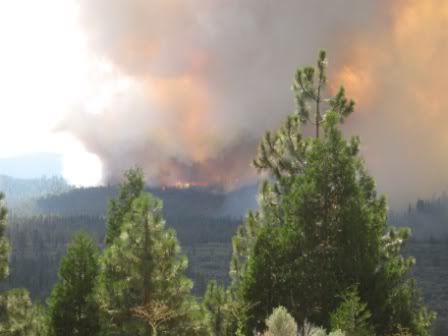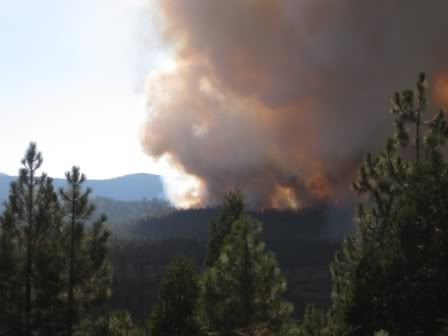 According to the news this was dubbed the Sugarloaf fire, and was started by a lightening strike.
I spent the past week at my family cabin in Incline Village, Lake Tahoe. The kids and I spent the first half of the week with my two sisters and my niece, and the second half of the week with a friend and her two kids.
One activity I haven't done in many years is go "rafting" down the Truckee river. I use the term rafting loosely because it's less like rafting and more like a slow float down a river with 50 of your drunken friends. I went once with my sisters early in the week, and then again with my friend and her two kids at the end of the week.
We arrived at the Truckee River Rafting check-in in Tahoe City at 2:15pm with a carload of people ready to raft the might Truckee River. We pulled into the parking lot and greeted the parking attendant who looked at me and said, "Weren't you just here the other day," to which I answered, "Yes, and I brought a new group with me this time."
I sat there perplexed wondering why the guy remembered me. Was I obnoxious last time? Did I have toilet paper stuck to my shoe? Why would the guy remember me out of the hundreds of people that come through that parking lot every day?
We parked the car, grabbed some life vests and piled into the boat to drift down the river.
About halfway through the float a group of 20-something rafters came up alongside our boat and started a conversation. One of the drunken shirtless men in the boat looked at me and asked, "Are you Annika Sorenstam?"
For those of you who don't know, Annika Sorenstam is a very well-known professional golfer. I knew who she was, but I had no idea how much I actually look like her.
Is this uncanny or what!?
I wore that Titleist hat on both rafting trips. I wore no makeup, which made me look even more like Annika.
When I told my sister Tracy, a big golf fan, what happened, she said, "They obviously aren't big golf fans, because if they were they'd know that Annika is sponsored by Callaway not Titleist."
So, now I know why the guys at the rafting drop off remembered me. They thought I was Annika Sorenstam!

Note: Annika actually has a place in Tahoe. I am also now the proud owner of a Callaway visor thanks to my friend Janet.