Originally published on MySpace on January 29, 2009.
I ran the Carlsbad Marathon last Sunday in 4:15:10! And I felt
great afterwards.
That's a 9:45 minute mile in case you're wondering.
People I need to thank:
* I want to thank the pacesetters I ran with: Tino and Kindra.
I couldn't have done it without you two.
* Thanks to Heather from Portland who gave me the jelly beans
at Mile 25 when I had nothing left.
* Thanks to my sister Shannon who let me stay at her place in
Laguna Beach on Friday and Sunday, and fed me pasta, wine,
and rocky road ice cream. And thanks for loaning me the
Yellow Submarine (an old yellow Mercedes) so I wouldn't
have to rent a car.
* Thanks to Eric in Laguna Niguel who gave me a beer, a protein
bar, a handful of dates, and a foot rub after the race (six hours later).
* Thanks to my running partner Janet who made me sign up for
the marathon, and then made me start with the 4:15 pace group
because she said I could do it, AND let me share a room with her
in Carlsbad the night before the race.
That's me crossing the finish line on the far right. I finished 11th
in my division, and in the top third overall (men and women).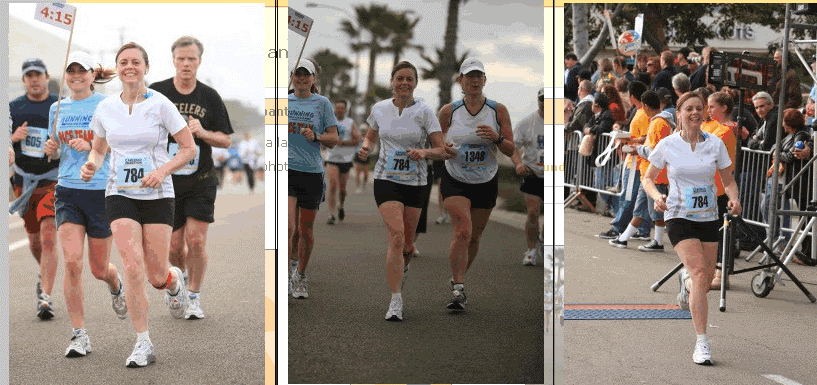 Comments
comments
Powered by Facebook Comments